Vienna Air King is the popular dirt jump event which brings MTB Slopestyle into the heart of Vienna's historic city centre. This year it was celebrating its 10th anniversary. Thousands packed into Vienna's Rathausplatz Square. The AZONIC team showed up with Jakub Vencl, Bernd Winkler, Adam Glosowic, Max Mey and Markus Saurer to kick-off the 2015 season at the second FMB World Tour silver event this year.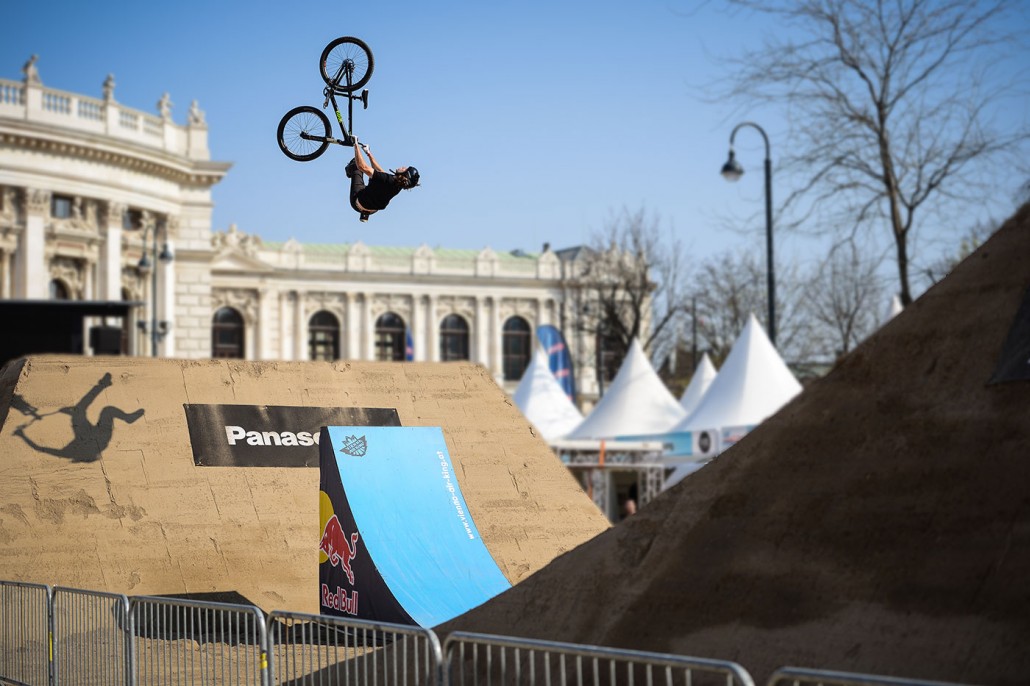 Jakub Vencl landed on an excellent 5th place. "Vienna was always a beginning of the regular season for me and this year was no exception. I had to go through the pre-quali on friday as I´m missing points from last year due the injury I had. Jumps were great this year and even though this is not my favourite kind of course, I had a lot of fun riding it. I just felt good on my bike all 3 days and tried to do clean run instead of hucking it and it worked out great. I made it to 6-men super-finals with my safety run and had some more to show then, but unfortunately I didnt managed to pull the whole run. In the end I´m super happy with my 5th place, which is a good start for the rest of the season.", Jakub said after the event last weekend.
All images by:
Norbert Szász
Team mate and AZONIC Rookie Bernd Winkler from Austria placed 7th in the pre-qualifying and entered the Qualification. "What a weekend! I finished in 16th place at Vienna Air King and only missed the finals by one spot, but I'm still so happy about this result." Bernd said. Anyway this is a great result and he was the best Austrian Rider.
Rankings:
1. Nicholi Rogatkin (USA) 2. Thomas Genon (BEL) 3. Max Fredriksson (SWE) 4. Mehdi Gani (FRA)
5. Jakub Vencl (CZE)
6. Peter Henke (GER) 7. Daryl Brown (GBR) 8. Anton Thelander (SWE) 9. Tomas Zejda (CZE) 10. Tomas Lemoine (FRA) …
16. Bernd Winkler (AUT)
FEATURED PRODUCTS